Jackpots
Slotastic Casino is offering a special Jackpot offer which can be used on any of our games that offer Progressive Jackpots. A Progressive Jackpot is an accumulated fund where everyone playing on the online casino (Slotastic) contribute a minute amount every time a wager is made. This fund quickly increases with the number of players continuously pooling in small amounts after small amounts of cash. These Progressive Jackpots continue to be topped up almost every minute until they reach astronomical proportions when they are finally won by a Lucky Slotastic Casino player. Once the Jackpot is won and claimed, it is reset to a lower amount and starts building up again almost immediately. Some of these Progressive Jackpot pay out sooner with slightly smaller amounts, others continue to build up until they are won. A third variety are the ones that guarantee payout when reaching a certain (high) amount. The Jackpot feature, whether Progressive or not is by far the most exciting feature on any Slot machine. Those Slots that do not have any Jackpots normally pay out higher wins to compensate for this, but nevertheless, the Jackpot is the Holy Grail for players to win and a dream come true. In fact, over $5m in prizes are at stake within the Progressive Jackpot pools on our exclusive collection of Slot games. Aztec's Millions is one of them. The intriguing theme coincides with the Progressive Jackpot to offer huge Jackpot payouts. Another great Slot featuring a Progressive Jackpot is the majestic and terrifying Megasaur. It is also available with such well known Slots Shopping Spree II and Spirit of the Inca and a couple of others, in fact 6 games from our selection offer this great Progressive Jackpot feature.
Slotastic 75% Jackpot Bonus
This amazing Bonus gifts you a 75% Jackpot Bonus on the 6 games offering the feature. By depositing just $25 today, you will be adding the 75% Bonus to your account, up to $125. With this offer valid every month, once a month, it can be enjoyed month after month. The sheer excitement of winning the Jackpot especially if it is a high amount Progressive Jackpot will be an experience of a lifetime. Not to mention all you can do with such a large cash pool in your account. The imagination can run wild with possibilities and options that will open up to you. Progressive Jackpots are not available on all the games but only a select few which have proved to be popular with players and have passed quality and Fair Play tests. These games are the "creme de la crane" of online Slot games. They have earned their right to be up there with the very best. And you have earned the right to play the very best Slot games the industry has to offer. Our Jackpot Special offer together with our Progressive Jackpot Slot games will provide you with an authentic gaming experience with exponentially increased chances of winning huge payouts rather than petty cash! Take advantage of the best and you will become the best yourself.
Meet Jackie Chan in Eagle Shadow Fist slots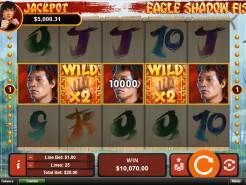 This superb RTG title is one of several featuring Jackie Chan. With five reels, 25 lines, and a progressive jackpot up for grabs too, it has won over many fans since its release. The background to this game is stunning, but you'll be focusing on what is happening on the reels. The scatter is a notable symbol, triggering a free spin feature whenever three or more are found. These carry a 2x multiplier, but since the wild already has a 2x multiplier connected to it, you could potentially scoop up to 4x the typical prize amount if one of those is involved too. Play on mobile or at the regular casino today.
Relax in this charming setting in the Crystal Waters slots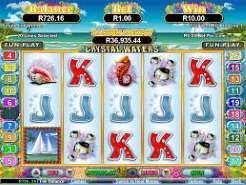 A calm sky, a relaxed feel, and yes, a random jackpot too… all this and more is included in the five-reel Crystal Waters online slot. Offering 20 lines and a wild dolphin providing a 2x multiplier whenever it appears in a winning combination, this slot has lots to offer. Look out for the yacht sailing into position on the reels two. If three appear during the same spin, you will receive 15 free spins. Those spins are made special by the appearance of a bonus fish on the middle reel. It is wild and carries a multiplier of 2x, 4x, or even 8x.
Dare you meet the vampire in Count Spectacular slots?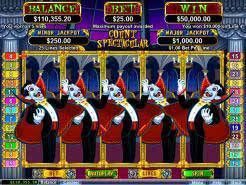 This has always been one of our favorites, and we know many players love it too. The progressive jackpot is just one reason to give it a try. The Count is quite handy rather than being threatening, as he is the substitute symbol. He always expands to fill a reel he appears on too. His abode – the castle – is used as a scatter. Watch for the Count to turn up on reels one and five simultaneously. If this occurs, you can select either 12 free games or four respins. If you choose the latter, the expanded Count remains where he is on reels one and five. This means you can choose a different bonus whenever you trigger it.
Is there real treasure to unearth in the Plentiful Treasure slots?
This 243-ways slot appears over five reels and is packed with charming icons. The ancient Chinese theme has been used many times before, but it is impressive here. The game has two wilds, one appearing over the middle three reels, while the pearl is limited to the third reel but brings a 5x multiplier along with it. Three or more tripods result in eight free spins where only the high-value icons appear. Throw in four progressive jackpots and you can see its appeal. Even if you do not scoop one of those, the presence of two wilds gives this slot double the appeal.
Are you ready to crack the vault in Cash Bandits slots?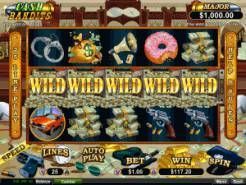 The most famous feature of the Cash Bandits slot is the vault-breaking round. Before you attempt to get there, this five-reel slot with 25 lines to bet on has a wild vault that can help you get closer to winning prizes. The police badge is the scatter, and this triggers the Vault bonus if three or more appear. Attempting to open the vaults that appear on the next screen will determine how many spins you get, and how big the multiplier could be. Up to 90 spins are available with a multiplier ranging as high as 12x.